July saw a number of Tantec-UK's treatment systems being shipped, but most notably were two large VacuTEC units which made the journey from a warm and sunny factory in Denmark to the UK.
The VacuTEC system, fitted with automatic doors among other toys are destined for a tier-one automotive sub-supplier who treat plastic materials prior to bonding.
By using a Vacuum Plasma system, you prime the surface and improve both the performance and the reliability of adhesive bonding (or inks, coatings and other liquid bonding applications for that
matter) without the need for chemicals or manual abrading techniques.
Chris Howey – Tantec-UK Ltd Managing Director adds "Delivering such large systems is always fun, but it's been a great year for smaller systems too. We've seen the lowest price option "SpotTEC" really flying recently – forget Brexit gloom and doom, let's just keep making things!"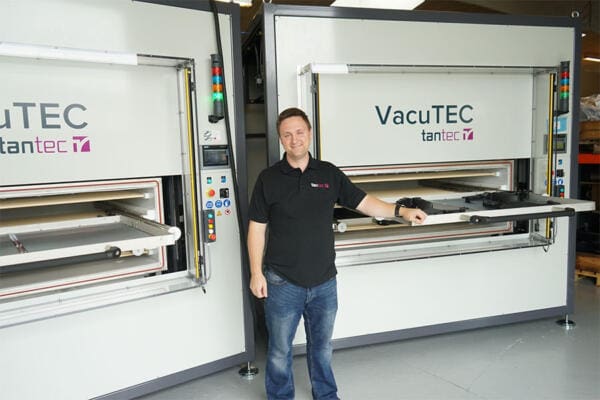 As summer continues, customer manufacturing might take a dip, but Tantec's service and spares engineers are keeping systems in shape during customer shutdowns. If you could benefit from Tantec's services, find out more at www.tantec-uk.com or call on 01527 304 004.
Tantec A/S has been creating Plasma and Corona treatment systems since 1974, with its advanced, modern manufacturing facilities in Denmark it has worked closely with customers around the world to become a truly global manufacturer of the highest quality surface treatment equipment.
Tantec offer support from initial ideas through to product development, system installation and continued service and support for the life of the equipment globally with local support in each territory from trained engineers.
Tantec-UK
01527 304 004
Website
Email